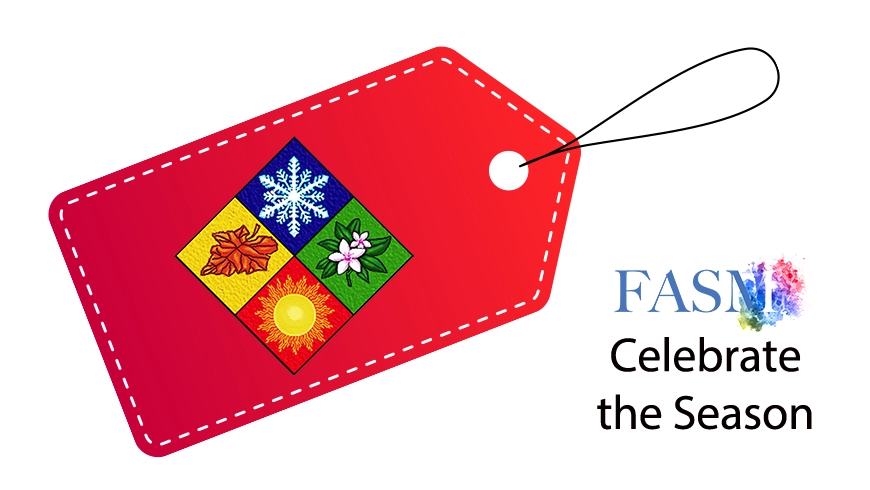 Register today for the FASM member Show and Sale from December 4, 2022 to January 8, 2023
Wow! what a year we had, and what better way of closing 2022 than placing your artwork in the Holcim Gallery. For those of you who are new members to FASM, we give members in good standing an opportunity to display 2 pieces of your artwork. This is your opportunity to show the community your best work. Each member is eligible to enter one or two pieces for a fee of $45.00.
So that all members can be considered, we ask that wall-mounted works not exceed 42 inches in width. Also, your work must be finished properly to the edges and completed with wire in place ready to hang.
Final art pieces should have a hanging sleeve attached on the back top with an inserted wood dowel flush to the edges. Eye screws should be attached to the dowel ends for hanging.
Displays and tables will also be available for artwork to be placed on. (Clay, Pottery, Wood, etc.)
Art sales that occur are between the Artist and Purchaser. Once a piece has been sold, please notify Anne-Ellice at events@fasm.ca and a red dot sticker will mark it paid. Please note art pieces (including sold pieces) cannot leave the gallery before January 8, 2023. We ask that the Artist be present at the time of pick-up by the Purchaser.
Please note: FirstOntario Arts Centre creates a catalogue where it lists all the artist's contact information. I will be adding to that, your previously submitted bio and headshot from past events. If you haven't provided us with a bio or headshot, you can do so by emailing events@fasm.ca. Also, it would be great if you could add a note on what inspired you to create the piece that you have hung in the Gallery. This catalogue will be available to all who visit the Gallery.
Registration:
Download Registration Package including form to fill out. All cheques must be received prior to In-take date!
Artwork In-take Date:
Sunday Dec 4th 10am to 12pm Gallery will be closed at 12pm.
Artwork Take-out Date:
Sunday Jan 8th 10am to 12pm. Work cannot be left after 12pm without incurring storage charge of $5/day and there is a risk of damage or loss.
Please note: Your 2022 membership must be paid in full to participate. Please click here to complete your membership.